Ivo vom St.-Michaels-Berg IGP3
DOB: February 13, 2019
Father:
V24 BSZS 2018 Jimmy vom St.-Michaels-Berg IPO3, Kkl 1a (World V31 BSZS2016 VA4 Taifun vom St.-Michaels-Berg IPO3 and V Menja vom St.-Michaels-Berg IPO1 son)
Mother:
Xendy vom St.-Michaels-Berg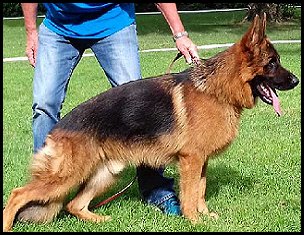 2021 BSZS (World Sieger Show) Critique:
Very large, medium strong, very good pigmented, good body proportions, good expression, strong head, dark eyes, correct ears, high withers, straight firm back good positioned somewhat short croup. Good front and very good rear angulation, the fore-chest should still further develop, straight (correct) front, stands slightly narrow, almost light elbows. Slightly close stride, fluid lively performing gait with strong rear drive and good front reach, maintaining very good suspension. Protection work pronounced; does out.




Click here to see our Female Schutzhund IPO / IGP Certified Protection Trained German Shepherds for sale
Our Record Speaks For Itself