To become a Breeding Associate anywhere in California contact Bill Fleischer.
We offer all German black and red German Shepherd Puppies for sale in California. We ship our very special German Shepherd Puppies Worldwide, including Los Angeles and San Francisco California
We are seeking a limited number of serious individuals in California who really care about the future of our German Shepherd breed and wish to participate in our growing German Shepherd Import program. Our Goal is to accelerate the importation of top quality breed-worthy German Shepherd males & females. We desire to establish truly World Class German Shepherd breeding programs throughout America. Our emphasis continues to be on proven producers including males on Germany's "Top 50" stud list and comparable females from Top Producing Bloodlines. Sole ownerships, co-ownerships and small investment breeding interests are available. Please note we are extremely proud that we have imported 5 of the 8 German Shepherd stud dogs whose progeny groups were exhibited at the 1996 Sieger Show.
Below are References from Fleischerheim German Shepherd Puppy Customers in California
A message from Art <alehr034@aol.com> dated May 30, 2020

Subject: Nero and Solo

Well, Nero has taken his job as protector very seriously, nothing crazy but always on -- alert to strangers.

This has impressed Solo and she is very happy to have Nero as her friend.

California

A message from Art <alehr034@aol.com> dated December 22, 2019
Subject: Nero vom Schlicher Hof IPO3

Hi

Nero enjoying Life.
Merry Christmas
Art, Joan, Solo, and Nero - California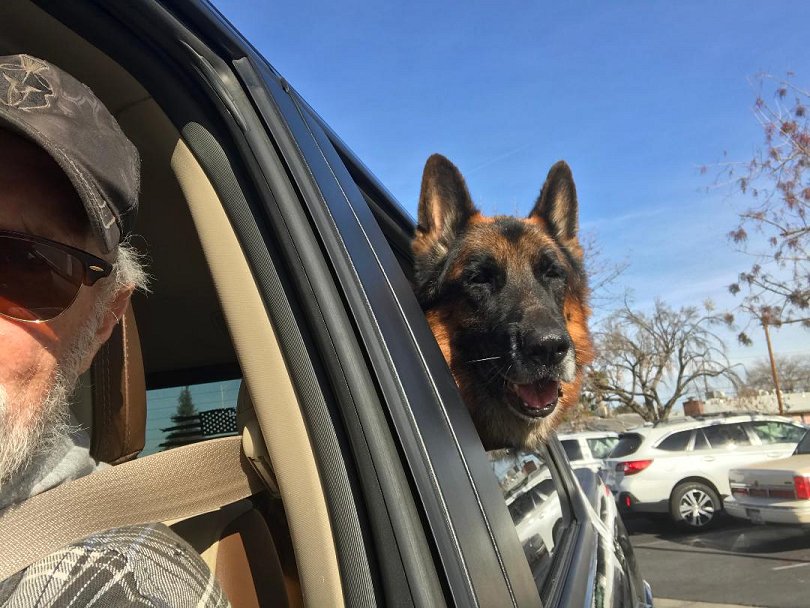 A message from Art <alehr034@aol.com> dated December 17, 2019
Subject: Nero vom Schlicher Hof IPO3

Hi

Got in from SFO @ 0330 and up at 0730, long day for us.

Nero is great -- a beautiful dog and so well behaved. Nero and Solo are outside now, all Solo wants to do is play and all Nero wants to do is explore and check out all the new smells.

Nero slept in house last night, no problem and met me with tail wagging.

He will have a great time here up in the mountains and we will make sure he has a great time in his retirement.

Will update again soon.

Take care

Art, Solo, Nero
California

A message from Alex Chavez <alexchavez624@yahoo.com> dated September 8, 2019
Subject: Thank you ! (Nero-Ursa LongHair Male)

Dear Bill and Evy,

I would like to send you a big thank you from our family to yours. All went well for pick up at the airport. Our puppy has been playing and pooping and eating and now he is taking a nap. All is well.

Sincerely,
Alex - California

A message from Shelly Hirshon <shelly@sihenterprises.com> dated January 18, 2019
Subject: Update on Mac Daddy

Hello there Bill and a very happy new year to you, Evie and your entire family.
Shelly and I hope that this note finds your daughter's health much improved and everyone in your family on the mend.
Sending you the latest updates on our beautiful Mac. We flew with him to Santa Fe and traveled with him extensively throughout the holiday season. He loves airplanes and road trips, balls and sticks.
He's the greatest dog ever. He's with us where ever we go. Literally everywhere.
I've given your name and number to numerous people who ask where they can find a GSD just like Mac.

Claudia Glenn Barasch
Los Angeles, CA

A message from Dayna Devon <dayna@daynadevon.com> dated November 4, 2018
Subject: Fresh from a grooming...Riska v. Fleischerheim

And they are already THE BEST OF FRIENDS. I'm serious...he didn't want to be separated from her at the groomers...they were AMAZED when they found out they had just met. And she's beautiful and sweet and kind...

Thanks for everything,
Dayna Devon
California

A message from William Satnick <satnickdc@yahoo.com> dated June 5, 2018
Subject: Re: LESSA (Zabax-Tina Ultimate Female)

Hello Bill and Evy,

This is Bill Satnick from San Diego, I hope this finds everyone relatively healthy, we think about you guys often. I just wanted to keep you up to date with our puppy Lessa. She is about 18 months now and is 65.4 lbs. and is what I would call an athlete, she is very agile and is very muscular. I have been training her on the field off leash for about one month with other loose dogs, which I don't allow her to meet with. When we are on the field she is under my control by using just my voice, hand signals and body movements. Her recall is sound as it has been tested twice on the field by my error, she returned to me with just one call from me, and she was running full speed at this dog! I yelled Lessa, no, come! She stopped dead in her tracks and she ran as fast as she could back to me! I was so proud, and you guys would be too. Lessa is my service dog, she helps me walk by stabilizing me laterally and propelling me forward, plus she picks things up from the ground for me. She comes into most stores with me and is comfortable with any situation! We are so happy with this dog you guys!!! I have a very deep bond with this girl, and she has a great bond with my family also.

For two days per week I take her with my wife and I to work and she is in her crate with an orthopedic gel cushion with the door open, she will stay in until I take her out, with about forty or so people standing by and bending near her, she just sleeps and is so relaxed patients always comment on how comfortable she is. On the other days she is either with my wife at home or with me at home. She doesn't have any bad behaviors at all, she is happy with her place in our pack!
I do have an important question about Lessa's diet, how many cups of the Victor High Pro Plus food should I be giving her? She is 65.4 lbs, she is not fat but is very muscular, she looks great with a beautiful coat! I do train her regularly, using a ball as reward, but at home with treats, apples, soft high protein treats also.

She runs after a ball (very aggressively) as a reward doing long distance downs, sits, recalls, healing off leash, etc. I do this type of training with her about 6 to 8 times per week for any where from 15 minutes rarely but usually we go for 1/2 hour to one hour. So that is her exercise regimen currently. We are so happy with that food you suggested, Victor's, Her stools are beautiful, and she continues to like it Thank you guys!

A message from Sheldon Hirshon <shelly@sihenterprises.com> dated March 8, 2018
Subject: Mac

Bill - in four days Mac will be five months old. He's grown several inches and gained at least 15 pounds. As you see, he is a beautiful dog. As important, he is a delight - friendly, adaptable, warm, affectionate, smart, fun and easy to train, and has just the right touch of "this is my house and my family."

We are so in love with him and he returns the feeling many times over. Thanks so much for Your expertise and advice that he is exactly the companion we were looking for.

Best regards to you and your family.
Shelly and Claudia

A message from rockinghorse ranch <rockhorseranch@gmail.com> dated May 16, 2017
Subject: Re: Pax

Hi Evy! It is so funny you wrote me, I have been thinking about you and meaning to give you a Pax report! He is, and has always been, the coolest puppy. I take him to coffee at this very touristy coffee house in Santa Barbara to socialize and as a baby he would sit on my lap, then under the table, now he is so big he has his own spot, but he has always just been the coolest, most perfectly behaved puppy, never chewing or whining, just friendly and happy. I have given your name to so many people because everyone who meets Pax says "I want a dog just like that!" He turned a year old in March, and I think he is still growing but right now weighs 88 pounds. I'll send a couple of photos but his ears were up at three months and stayed up perfectly straight, he is very dark red with a black saddle. I work with a trainer every week and am probably going to show him in obedience pretty soon. He is a sweet, kind, dear creature. Pax is calm, willing, brave, very cool, he doesn't get flustered, he is just a neat dog, a very easy dog to live with. He likes people, has lots of friends and is very friendly but definitely wants to be with me. I am his world and pleasing me is his work, his life. He comes up to me and buries his head in my lap and wags this long tail and his whole body wags with happiness! He is totally healthy and sound, phew!, he is quite fit as he works on my horse farm and has been trustworthy off leash since he was 5 months old. He has, from the moment he arrived, been a complete delight in every way. Hope all is well with you-- Cynthia
- California

Bill --
The two girls Luci and Mary make me very happy.
I was so lucky to find you both and get my girls from you.
Yes they do get treated like princesses and for that they look after me and my family.
Have you ever thought how happy you have made so many people with your great dogs.
Thanks --
Art Lehr
-California

A message from: Karin dated March 27, 2017
Subject: Female Puppy -- Tim-Juliet

OMG I am going to die. She is the cutest little thing I have ever seen . Also have never seen my son so happy . She runs after him and her tail never stops waging Thank you a million , I write soon again

Karin

A message from Mark Whiting <mwhiting@drawbridgerealty.com> dated March 23, 2017
Subject: RE: Son of Nero

Hi Bill!

I am happy to report Koa is a fabulous young fella. The trainer Teri did an amazing job in 3 weeks. He showed up at our house trained, calm around the small kids, and never jumping up on anyone or anything. He walks beautifully by our side at the speed we walk on the left, sits immediately when we stop, and stops (mostly) at every door opening and every curb. He sits, heels, stays and comes remarkably well for a 5 month old bundle of energy, and he sleeps without a peep in his crate from 10 AM(sp - PM) to 7 AM. I highly recommend Teri for any other NorCal puppys!! He is so beautiful everyone who sees him stares at him, and his disposition is really pleasant while he is already a great watch dog. All-in-all an A plus pup!!
.
Let us know if you are ever able to see us in SF we are near Coit Tower on the Alcatraz side.

Best,
Mark

A message from Kristina Kraker <krisskraker@sbcglobal.net> dated January 28, 2017
Subject: Re: AKC Registration

Hi, Bill,

So very sorry to hear about your daughter. We will keep her in our prayers for continued healing.

Thanks for sending off the application. We will be looking forward to receiving it so that we can get the puppy registered with the AKC.

Please tell Evy that she was right in that we would be getting the 'looks, turning of heads and compliments' galore with this pup. He is one handsome guy.

Sincerely,
Kristina Kraker-Nomi
-California

A message from Kirk Zeigler - October 11, 2016
Bill & Evy

You guys did Wahr a good turn bringing him up here... He is a legend already in these parts for his protective trait. And purely instinctual! Ain't this boy handsome..... Two of my Sheriff friends want puppies.

Kirk Zeigler
-California

A message from Rockinghorse Ranch <rockhorseranch@gmail.com> dated June 6, 2016

Hi Evy and Bill,
I just wanted to share how special this little puppy is going to be. The very day I got your e-mail my beloved Great Pyrenees, Snowman, had been diagnosed with bone cancer. I was just devastated. Snowman is not just a dog, he has been flock guardian on our farm for 11 years. He is beyond beloved, he is legendary, someone even wrote a series of children's stories about him! He has been leader, teacher, he is a big, gentle giant. I think he is why Francis was so gentle, Snowman sensed his weakness and totally took him under his wing.
When I first got your e-mail I wasn't going to get another puppy as the doctors think Snowman has maybe two months left to live, and I doubt if this will be an easy time, Tramadol or not, but then I decided this is circle of life and timing wise maybe Snowman needs to imprint some of his gentleness and strength on the little puppy. Even though new puppy won't do Snowman's work, Snowman is a flock guardian and new puppy will be a Cyn guardian, I think this new little fellow will fill Snowman's very large shoes and the very large hole in our hearts when Snowman finally passes.
Unless you have other ideas, I think I am going to name him Bruno. I don't know if you have followed the news in Los Angeles, but there was a police dog named Bruno who was shot protecting his partner a couple of years ago. He survived and has been quite a local hero, he has a park and a statue dedicated to him. He passed away a few days ago. If you haven't followed his story you should google him, he and his partner had an amazing connection, the partner had been rescued from drowning by a German Shepherd when he had been a baby, it is an incredible story. Anyway, I think I think it would be a nice tribute to name my puppy after such a hero...

Cynthia

-----Original Message-----

Subject: Re: ARRIVAL MONDAY, MAY 23, 2016 AA 2277 ARV LAX 6:14 PM AIRWAYBILL # 4862 0891

This is the most wonderful puppy ever! He has the best personality, happy, so enthusiastic and eager. What has it been, two weeks since he arrived? He has grown SO much, his ears are very firmly up, he is housebroken, he sits for treats, he is the easiest, best dog I have ever seen. He is with me constantly, in his crate in public until he finishes shots, and he maintains his elegant posture and class wherever we go, whatever we do. I am completely and totally in love! He is amazingly tuned into me for a little puppy, he looks right into my eyes so intelligently and this week anyway, it will change, but right now he comes running as fast as he can when we call him.

We start puppy school in July, he has met his teacher who was blown away by him!

He is much too beautiful for the name Bruno. I have decided to call him Pax.

Thank you so, so much. He is just wonderful. If you want his name to start with a specific letter let me know and we can work Pax into the name somehow.

Cynthia
-California

A message from kirk zeigler <kirkrzeigler@gmail.com> dated May 8, 2016
Subject: My best buddy, Wahr

Bill & Evy,

Great to hear you guys. In my humble opinion you are what is swell about America. Happy Mutter Tag!

Kirk

A message from Mike Parodi <lamorindabuilders@comcast.net> dated December 31, 2015
Subject: My Girls With the New Puppy

Evy and Bill
Here is a picture of my girls with the new puppy, they were extremely excited. Now the debate has started on what to name her. Once again Thank You, and I hope you have a Happy New Year.

Thanks, Mike
(925) 766-XXXX

A message from Eddy Olandj <eolandj@gmail.com> dated September 10, 2015
Subject: Reeko

Hi Bill,

Reeko is doing great. I can't believe it's been 3 years. We have been training him for protection. he is great with our kids and his temperament is awesome. thanks again for a great dog. here is some pictures.
Best Regards,
Eddy from California

A message from kirk zeigler <kirkrzeigler@gmail.com> dated August 26, 2015
Subject: Friends for life

I first spoke to you, Bill, in 2002 when searching for an Ursus pup. Fate took me in another direction and I was blessed with Wolfgang for the time he and I shared. When Wolfgang died I contacted you first. Some time later, on a hunch you took a road trip with Evy and brought a 9 month male up to my isolated property in Northern Sonoma County.

Wahrheit is now 2 1/2, and as they say, is part of the woodwork up here. He just loves life so thoroughly as your Shepherds do.

I have provided a natural forest ranch environment for his happiness and he returns the favor in making me so happy and proud of him.

Every morning brings tremendous greeting and joy.

The female you sent is 1 year and 2 months. Kardinal is so smart and fast like a rabbit.

What is remarkable to me is how they intently watch my every move. Any slight sound or movement different from the norm has Wahr on full alert barking and running the fence line. What a team they make as they play and rough house and guard my home and property.

They have so many Sieger Champion blood lines as a result of your breeding program.

You and Evy have a great life doing good stuff and Fleischerheim Shepherds is my recommendation for anyone I will know ever seeking a German Shepherd.

Thanks for Everything and be of good health.

Kirk Zeigler

A message from Ken Krefetz <tenkk@aol.com> dated June 13, 2015

Bill,

Hope all is well. Remo is a happy and healthy pup, enjoying the SoCal
lifestyle. Pic taken last week.

Ken

A message from Maria Camello <Maria@AM1Stars.com> dated February 7, 2015

Dear Mr. Fleischer,
February 14th, 2003 produced a litter of pups from what I believe to be Sergio Von Bad Boll's litter. At the time, my Shepard was aging and I was looking to purchase a new pup, a pick of the litter male. When he arrived at LAX, I couldn't believe this beautiful animal was mine. I named him Sergeant. After almost 12 of the happiest years of my life, in two short weeks after diagnosis of a mass on his liver, he passed away on Monday, February 2nd. His death has left a huge darkness around my home for both my 88 year old Mother and I. He was my shadow, he was my Mother 's companion during the day. We both miss him terribly. I spoke with Evie briefly on Tuesday, and I mentioned to her that I was so very happy to have found you again, and that I want to purchase another pick of the litter male. You handled it all for me, and I trust you will help me again this time, especially since I cannot travel to you.Due to my financial situation this month, I am hoping to purchase from a litter that will be available in late March. When I purchased Sergeant, I knew nothing about you. I have enjoyed reading your history, and I can speak from firsthand experience that you breed absolutely wonderful dogs. Sergeant brought us so much love, and although we don't have him anymore, I look forward to opening my arms and holding one of your so very special pups once again. Please email me or call me if you can share any information about the puppies that you will have in March.

Sincerely,
Maria Camello
-California -Sent from my iPad

A message from Helen <helenmwatts@aol.com> dated March 22, 2014

Bill:

The puppy arrived safely. Thank you. He is doing well and seems to be fitting in well with our other shepherds. He is gorgeous. He has his vet appointment in Tuesday which meets the 96 hour window we agreed upon for his check up.

I will send photos later.
Regards,

Helen Watts
Los Angeles, CA