Jambo Team Gigelsfelsen IGP3
DOB: November 1, 2019
Father:
World Sieger VA1 Willy vom Kuckucksland IPO3, Kkl 1a (2X World Sieger VA1 Remo vom Fichtenschlag SchH3 grandson; VA1 (RUS) Franco vom Kuckucksland SchH3 grandson)
Mother:
Olympia vom Ortskern IGP2, Kkl 1a (V Uranus zum Gigelsfelsen IPO3 and V Nicki vom Ortskern IPO2 daughter; VA3 BSZS (2015) Pacco vom Langenbungert SchH1, IPO3 granddaughter)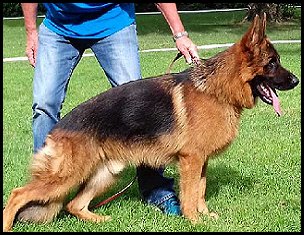 Kor Report - (Breed Master Critique):
Larger, medium strong male with harmonious top and bottom line. High withers, straight and firm back, good length and posture of croup. Very good rear, good front angulation, balanced chest proportions. Straight (correct) front. Moving straight coming and slightly close going away he demonstrates an expansive strong gait with very good balance, sure (sound) temperament. Protection drive pronounced.




Click here to see our Female Schutzhund IPO / IGP Certified Protection Trained German Shepherds for sale
Our Record Speaks For Itself