The Most Trusted Name in German Shepherds for over

58

Years
SEEKING FLORIDA GERMAN SHEPHERD BREEDERS
To become a Breeding Associate anywhere in Florida contact Bill Fleischer.
Join "Team Fleischerheim" Today !
We offer all German red and black German Shepherds for sale in Florida. We ship our very special German Shepherds Worldwide, including Miami, Jacksonville and Orlando Florida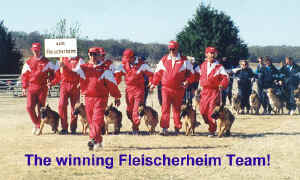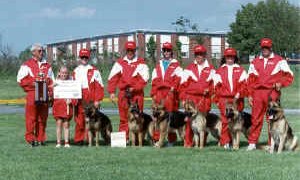 We are seeking a limited number of serious individuals in Florida who really care about the future of our German Shepherd breed and wish to participate in our growing German Shepherd Import program. Our Goal is to accelerate the importation of top quality breed-worthy German Shepherd males & females. We desire to establish truly World Class German Shepherd breeding programs throughout America. Our emphasis continues to be on proven producers including males on Germany's "Top 50" stud list and comparable females from Top Producing Bloodlines. Sole ownerships, co-ownerships and small investment breeding interests are available. Please note we are extremely proud that we have imported 5 of the 8 German Shepherd stud dogs whose progeny groups were exhibited at the 1996 Sieger Show.
To Join Team Fleischerheim Phone (916)791-9175
or Email: Billsgsd@aol.com
Below are References from Fleischerheim German Shepherd Puppy Customers in Florida
A message from Shanna Baggett <shanna@gaskincontractors.com> dated April 20, 2020

Subject: RE: Finn-Wintra Ultimate Supreme LH Female "Thalia"

Thalia is doing great she gets along with all my dogs and loves to run and play. She is an amazing dog and we couldn't be happier with her. Thank you again and I will keep in touch with pictures in the future.

Shanna M. Baggett
Assistant Project Manager
Gaskin Contractors Landscape Division
2311-3 Killearn Center Blvd.
Tallahassee, FL 32309
(850)508-**** cell
A message from Steven Brod <sb@crystalusa.com> dated September 24, 2019

Subject: Captain all Grown Up! Always aware or everyone and everything! Thank you - Florida
A message from Bette Bonfleur <bonfleur99@aol.com> dated October 14, 2017
Subject: What we do for our dogs

My Jeep is 12 years old and I'm getting too long in the tooth to sling ramps around. Besides, Mia hated it. Soooooo, Mia has a brand new Chrysler Pacifica. They have a Stow and Go feature that flattens the back seats to the floor (13" jump). The Jeep's is 33"! She hops in the Pacifica with ease and curls up. In fact, after her first ride she refused to get out.

A message from Natalie Eilemberg <natalie@eilemberg.com> dated June 10, 2017
Subject: Taco

Hi Bill,

I'm constantly checking your website, to see the puppies available for sale since we are BEYOND obsessed with Taco! He is the BEST dog EVER! I have told everyone in Miami about you and have given out your number multiple times. People are in awe of him. He is outstanding!
What's going to happen with the Texas facility???😲😳 and my real question is do you think you will have a repeat litter of Taco's mom (Eva) and Taco's father (Tim)? If so can I know about it???
Thanks for breeding such an AMAZING high quality German Shepherd!!!

Natalie Eilemberg

Below find a current picture of my beautiful baby boy

From Scott & Michelle Logan

Subject: Tim-Juliet LH Female

Bill & Evy,

Sorry for the delay in responding after the puppy (Belleau) was received. She is very beautiful, calm and just pretty much laid back. She has made our home hers and I can tell she feels like part of the family, although she does not like the Florida heat. She is already spoiled by the A/C. My family loves her very much, thank you. .

All in all, we are extremely happy to have her as a member of our family.

Scott & Michelle Logan

A message from Tessa Mia <tessamiafl@gmail.com> dated May 1, 2017
Subject: Re: Thank You!

Hi Evy,

Just wanted to keep you updated. I went to the vet today and the clinic ran the lab tests. The results came negative for Giardia and Coccidia, as well as any other parasites or worms.

Rex is gorgeous, so happy and playful, his right ear is half up, he already knows "come" "sit" "down" "up" commands and he learns everything so fast! I am just shocked that he didn't potty inside at all since 2 days ago! I am so happy he learned to go in the yard so fast, in a matter of only few days! I leave the food available to him all day long up until 7:00 pm then I bring him in the yard every 2 hours throughout the night until I am up around 2 or 3 in the morning and he is super good until 8 am. He is such an amazing puppy! Thank you so much once again!

Sincerely,
Tessa
-Florida

A message from ctwardzik <ctwardzik@tampabay.rr.com> dated April 9, 2017
Subject: Blue Ribbon for Isabella

Bill,
I just want to let you know, last month, Isabella won first place in the Novice Group. The first week in May she will be competing in the Good Citizen class. She is growing fast and training easily! Helen Gleason says, "She is extremely smart."

Thanks,
Dave
-Florida

A message from Natalie <natalie@eilemberg.com> dated November 1, 2016
Subject: Ears went up!!!

Taco is the best! We are so happy with our new addition to the family!
Thank you!!!

Natalie,

A message from Natalie <natalie@eilemberg.com> dated October 28, 2016
Subject: Taco -- Tim-Eva U.S. Male

He is getting so big!! Smartest dog ever! Love him!!!!!