The Most Trusted Name in German Shepherds for over

58

Years
SEEKING LOUISIANA GERMAN SHEPHERD BREEDING ASSOCIATES
To become a Breeding Associate anywhere in Louisiana contact Bill Fleischer.
Join "Team Fleischerheim" Today !
We offer all German red and black German Shepherds for sale in Louisiana. We ship our very special German Shepherd dogs Worldwide, including New Orleans and Baton Rouge Louisiana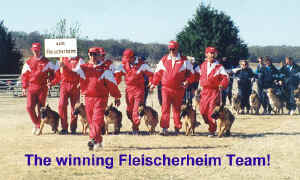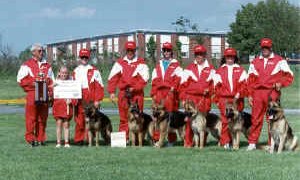 We are seeking a limited number of serious individuals in Louisiana who really care about the future of our German Shepherd breed and wish to participate in our growing German Shepherd Import program. Our Goal is to accelerate the importation of top quality breed-worthy German Shepherd males & females. We desire to establish truly World Class German Shepherd breeding programs throughout America. Our emphasis continues to be on proven producers including males on Germany's "Top 50" stud list and comparable females from Top Producing Bloodlines. Sole ownerships, co-ownerships and small investment breeding interests are available. Please note we are extremely proud that we have imported 5 of the 8 German Shepherd stud dogs whose progeny groups were exhibited at the 1996 Sieger Show.
To Join Team Fleischerheim Phone (916)791-9175
or Email: Billsgsd@aol.com
Below are References from Fleischerheim German Shepherd Puppy Customers in Louisiana
A message from Amanda Kittel <kittelamanda@gmail.com> dated July 16, 2018
Subject: Breeding

Hi Mr. Bill, it's Amanda Kittel. I want to thank you again for my puppy whom I love so much! I was curious about breeding him, and I was wondering if you could give me information about it? With him being almost six months old, I have to decide if I am going to neuter him or possibly breed(sp) him, but I don't even know where to start the breeding process if I were to go that route. Would you breed him, or would I have to find someone who wants to? How long would he have to go away for in order to breed? Is he even a good candidate for breeding purposes? If you could please give me any information you have from you experience, I would greatly appreciate it.

Thank You,
Amanda Kittel
A message from ESI Louisiana <bill@esilouisianallc.com> dated April 2, 2015

I received your info today concerning AKC registration and completed it. I will mail all of the completed info tomorrow. Thanks a bunch. LADY is great, learned to walk on leash, sit, stay, come, shake hands, high five, and down. She is so smart and picks up training quickly. The trainer said he could probably teach her to do almost anything a puppy could be taught. She goes with me to Bass Pro Shop, Pet Smart, and loves to ride in my Jeep. She is a great puppy and companion. We are really pleased.

Thanks for everything and if you would like to use me as a reference feel free to do so.

Have a great Easter weekend.

Bill Chapman
Educational Services LLC
12056 Justice Ave.
Baton Rouge, LA 70819
Office: 225-262-0033
Fax: 225-295-8229
A message from ESI Louisiana <bill@esilouisianallc.com> (Cc: 'Glynna Chapman' <gchapman56@gmail.com>) dated October 20, 2014

Bill:

We had a great trip home and she did better than we expected. She is adapting well and seems to be very content and happy. She is a beautiful puppy and thanks for all the work and dedication that you do with these great animals. I am taking her to the vet this afternoon and will forward her health report to you as soon as I have it.

Respectfully yours,

Bill Chapman
Educational Services LLC
Baton Rouge, LA 70819
A message from Bill Chapman <bill@esilouisianallc.com> dated August 4, 2014

Bill,

It was great meeting you the other day. Glynna and I were certainly impressed with your facilities and the beautiful puppies as well as the dads and moms. If we decide to do this I will be in touch as soon as possible. Just for clarification, we want a female.

Have a great day and you folks are doing a fantastic job with your firtst class operation.

Respectfully yours,

Bill Chapman
Baton Rouge, LA