The Most Trusted Name in German Shepherds for over

58

Years
SEEKING RHODE ISLAND GERMAN SHEPHERD BREEDERS
To become a Breeding Associate anywhere in Rhode Island contact Bill Fleischer.
Join "Team Fleischerheim" Today !
We offer all German red and black German Shepherds for sale in Rhode Island. We ship our very special German Shepherds Worldwide, including Providence Rhode Island.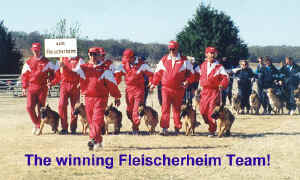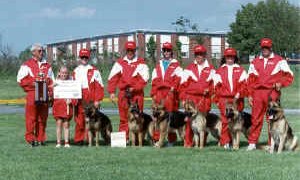 We are seeking a limited number of serious individuals in Rhode Island who really care about the future of our German Shepherd breed and wish to participate in our growing German Shepherd Import program. Our Goal is to accelerate the importation of top quality breed-worthy German Shepherd males & females. We desire to establish truly World Class German Shepherd breeding programs throughout America. Our emphasis continues to be on proven producers including males on Germany's "Top 50" stud list and comparable females from Top Producing Bloodlines. Sole ownerships, co-ownerships and small investment breeding interests are available. Please note we are extremely proud that we have imported 5 of the 8 German Shepherd stud dogs whose progeny groups were exhibited at the 1996 Sieger Show.
To Join Team Fleischerheim Phone (916)791-9175
or Email: Billsgsd@aol.com
Below are References from Fleischerheim German Shepherd Puppy Customers in Rhode Island
---
Clients and Friends of Fleischerheim German Shepherds from the great state of Rhode Island references and/or reviews are previous to 2008. Others will be published as they become available.
---
---
Our highly protection trained German Shepherd dogs for sale bring not only security to your home but are also the perfect companion for your family. Our Imported German Shepherd Dogs are used by families to guard against home invasion and for child protection. Many of our expertly (certified) trained German Shepherds are also ideal for competition trials also. The Fleischerheim German Shepherd Schutzhund/IPO Trained Protection Dog is a versatile working-dog, capable of being trained to perform a wide variety of tasks. They are excellent family companions, personal protection dogs, guard dogs, security dogs, service dogs and more.
Our many years of regular travel to Germany has resulted in valued experience and friendships with many of Germany's most knowledgeable and legendary German Shepherd Breeders and Trainers. We have the unique opportunity to Import and Breed to many of the World's top producing German Shepherds. No other German Shepherd Breeder, Importer or Trainer in America is as experienced and successful with Sieger Line and Working Line German Shepherds. The difference in our superb Black & Red German Shepherd Puppies and Protection Trained Dogs for Sale is QUALITY: Intelligence with Sound Temperament, Hips and Elbows are standard for all of our very special German Shepherds.


"Our Record Speaks For Itself"
---