Rasty vom Friedenspark IGP3, Kkl 1a
DOB: November 20, 2018
Father:
VA2 Kasper von Tronje IPO3, Kkl 1a (World Vize Sieger VA2 Quenn vom Löher Weg SchH3, IPO3, FH, Kkl 1a great-grandson)
Mother:
Nele vom Friedenspark IPO3, FH2, Kkl 1a (V1 Gary vom Huhnegrab IPO3, Kkl 1a daughter)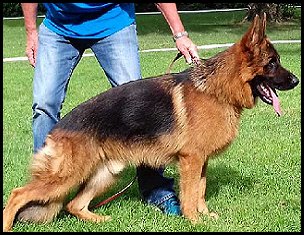 Breed Survey (Körschein)
Big, substantial, medium strong, normal structure, strong pigment, expressive head. Beautiful top and bottom lines, very good angulation, balanced chest proportions, correct front. Strong, spacious gait. Lively, sound temperament, pronuonced protection work.

Stunning big masculine male.
Deep red and black color.
Correct structure throughout.


Click here to see our Female Schutzhund IPO / IGP Certified Protection Trained German Shepherds for sale
Our Record Speaks For Itself